The livestock is an important sub-sector within Ethiopia's economy in terms of its contributions to both agricultural value-added and national GDP.
Ethiopia has the largest livestock population of any African Country. According to central statics agency (CSA 2021) there are 70 million heads of cattle, 42.9 million sheep, 52 million goats,2.15 million horses,10.8 million donkeys,0.38 million mules, 8.1 million camels,6.99 million hives and about 57 million chickens.
The promise and potential of the Ethiopian livestock value chain is to become a thriving industry that can produce packaged meats destined for Middle Eastern, European and East African markets.
Therefore, Tamrin international trading plc is working to introduce a proper and improved feeding, fattening, animal health care and other services contribute to national income growth, meet future domestic consumption requirements, and increase meat and live animal exports and foreign exchange earnings
Ethiopia's livestock farming sector is an enormous resource whose potential for value creation is only utilized to a limited extent. The current market is characterized by low per-capita consumption, declining exports of live animals and meat via the formal export route and substantial but difficult to capture exports of live animals via the informal export route. As a result, producer prices are often very low and the main added value is only achieved in the subsequent stages of trade. Therefore, there are few incentives for producers to improve or expand production.
Over the last two decades, Ethiopia has mainly focused on red meat exports. More important than the trade in meat and meat products is the marketing and export of live animals for Ethiopia.
In addition to important export earnings, it also provides access to foreign exchange, which is critical for Ethiopian economic development. In recent years, the export of live animals has been subject to strong fluctuations and informal export has gained in importance compared to formal export channels. For formal exports, an export value of around USD 62 million is estimated for 2017. In another publication, the value of formal exports is given as USD 190 million.
Overall, Ethiopia has not yet succeeded in taking advantage of the dual opportunities of, on the one hand, a better supply of red meat for the domestic population, and on the other hand, better export marketing in the red meat sector, where a high added value remains in the country.
So, Tamrin has been exporting live animals, meat, and meat products to fill this gap.
Meat and Meat by Products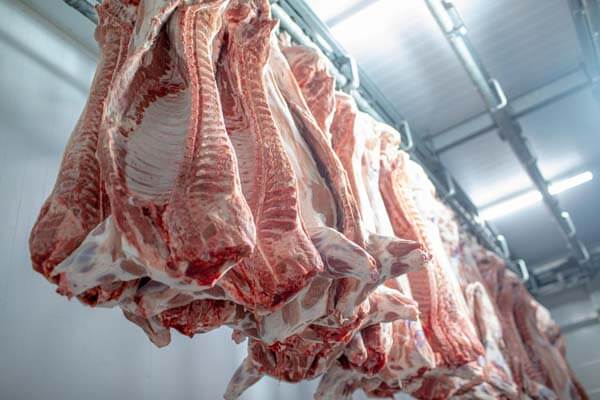 The export of meat & meat products is an important element in the Ethiopian economy as there is an ever-increasing demand for meat & meat products worldwide including beef, sheep, goat, processed meats, etc both as fresh and frozen products.
Ethiopia has the opportunity to respond to this international demand & increase its market share in what is a very lucrative trade, subject to its meeting the stringent requirements demanded by livestock & meat importing countries.
The country exports various types of processed meat. Meat products exported from Ethiopia include carcass chilled/frozen beef, veal, mutton, goat meat and meat cuts chilled/frozen, beef prime cuts, lamb racks/roll, goulash and goat racks. The meat by-products exported include, intestine, testis, liver, brain, lung, kidney and abomasum's.
Ethiopian, geographical proximity, as its' jumping off point to Middle East, enabled to export meat of 6490 tons worth of 20.86 million USD in 2008 in 5 export abattoirs named With gradual increase to 14 exporting abattoirs, the export attained to 19110 tons of carcass and offal for 92.65 million USD in 2019, but declined to 14750 tons and 80.79 million USD in 11 active export abattoirs, during 2021 meat export (chilled chevron, mutton, beef carcasses, and offal)
In this regard currently Tamrin international trading plc by signing slaughter service agreement with Organic export abattoir and HALAL Foods Industries PLC in Ethiopia. the company planning to expand its business to middle east countries by exporting selected and special quality chilled meat caraccas of Goat and sheep According to the import standards required of the governments.